Sarah's List:
All my favorite things:
babies, boobs, boo-boos and bye-byes
. (Okay except for the bye-byes, but this is such a true account of how it goes saying goodbye to folks you know you'll never see again.)
Soccer Isn't for Girly-Girls?- How Parents Pick the Sports Their Daughters Play
. Want graceful? Go for dance. Want aggressive? Go for soccer. Want a pink warrior girl? Go for chess. Huh? Do you agree with all this?
Is this what they mean by "pink warrior girl"?
How well do you know your
famous eyeglasses
?
Yep, this is exactly what happened after women got the right to vote. More absurd predictions in
Men Caring for Babies! The Horror!
The Ultimate Guide to Worldwide Etiquette
. Choose the country. Learn the customs. I.e. Do you have to say yes to tea? Gesture with right hand? Left hand? No hands? There's more to cultural acclimation than just beating jet lag.
As the summer comes to a close, how many moms felt this way?
Mom Spends Beach Vacation Assuming All Household Duties In Closer Proximity to Ocean
.
Worth it.
I remember spending Thanksgiving Day 1994 watching a
Real World San Francisco
marathon on MTV. It completely rocked my 12-year-old world. Long before
Will & Grace
and
Ellen
there were
Pedro and Sean
.:
Jill's List:
Okay. You've probably seen this 851 times already. But, it's
so
funny. Even funnier because Johan claims to hate
Mumford & Sons
and whines loudly about them when I'm getting my guilty-pleasure music fix. He's been carrying his laptop around campus making everyone watch. Or maybe that was me. What do you think?
Are they mocking their own fan
s?
Another one that's really been making the rounds (Thanks,
Joanna
&
Tina
!) - but is truly excellent. This read made me think about kindness, but also about how serious the pressure must be to come up with something brilliant when asked to give a commencement speech. (Here are some of the
all-time best examples
.) I really think that the thing I want most for my kids is kindness - by them and to them. An excerpt from
George Saunders' speech
:
What I regret most in my life are failures of kindness.

Those moments when another human being was there, in front of me, suffering, and I responded…sensibly. Reservedly. Mildly.
Do
other countries value intelligence more than the U.S.
? Is that why they are smarter?
Amazing pillows
. Seriously! (And they have a story). There are lots of other beautiful colors, patterns, and shapes
here
too - take a look! (Thanks, Lina, for the hookup.)
Crazy Pills
. More on Larium.
We didn't have water this morning. But - I came prepared with
this lovely dry shampoo
. Pretty great...I must say.
My favorite personal photographer
and lovely friend. (Can I call you that,
Rebekah
? The personal photographer part.) Check out her work - I'm always entranced. Here are a few shots she has taken of our family over the years:
The shirt is Everlane. Best ever. Barn. 2013.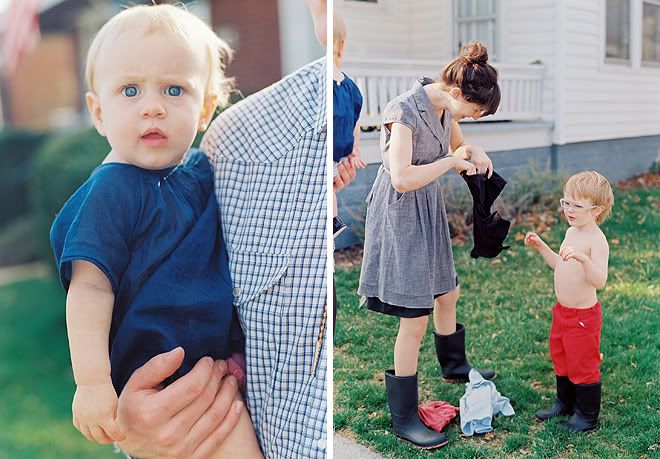 And. No! We haven't chucked the pink arrow entirely. It will make appearances in the near future. (Public service announcement for fear that our pink arrow fan base is getting antsy.)